Highfields Event Center
Aiken, SC
https://www.psjshows.com/highfields.html

Driving Directions
: From I-20, take SC Exit #22 US 1 and follow US 1 towards Aiken for approx. 8 miles. Once into town, take a left at the 2nd light (Sunoco on left) onto Hwy 118. Merge right at first light onto Beaufort Street. Follow Beaufort Street almost to the 2nd light, and take a left onto Barnwell (State Credit Union on left, street sign only on right). Cross over a dirt road and you will see our front gates and Highfields sign.
From Richland Avenue in Aiken: Heading east on Richland Avenue, go past Williamsburg to the next stop light. Take a left onto Beaufort Street at the Dollar General. Take the first right (before the Credit Union) onto Barnwell. At the stop sign, cross over the dirt road and you will see our Welcome sign.
To access Barns 2-4, Stabling Tents, Polo & Derby Field, Paddocks, Lunging Areas, Day Ship-In Parking and Vendors, please use the Gaston Street/Willow Run Road entrance 1 block North of our main entrance off Beaufort Street.
---
Blowing Rock Equestrian Preserve
Blowing Rock, NC
http://blowingrockhorses.com

Driving Directions:
From Boone on Highway 321: Coming into Blowing Rock stay in the right lane. The Right lane will be a turning lane, Turn right at the light, and continue to the next light and turn right onto Highway 221. Continue on 221 for approximately one mile than take the left onto Laurel Lane which will immediately follow a brown sign on the right hand sign that will say Horse Stables. Follow Laurel Lane to the left. Our driveway is on the left marked with a sign reading L. M. Tate Horse Show Grounds.
From Charlotte/Lenoir on Hwy 321: Turn left onto Business 321 shortly after passing Canyons Restaurant. Turn left at the second light (just past Wells Fargo Bank) onto Hwy 221. Continue on Hwy 221 for approximately 1 mile, just past the brown Horse Stable sign on your right, turn left onto Laurel Lane. Follow Laurel Lane to the left. Our driveway is on the left marked with a sign reading L. M. Tate Horse Show Grounds.
---
Foothills Nature Equestrian Center (FENCE)
Tryon, NC
http://www.fence.org

Driving Directions:
From I-26 East (from Asheville) or West (from Columbia) Take S.C. Exit #1 from I-26, toward Landrum, S.C. (turn toward gas station). Go 1.5 miles, then turn right onto Bomar Road (look for the Land Mart on the corner). Go one short block and turn right onto Prince Road. Follow Prince Road for approximately 1.5 miles and turn left onto Hunting Country Road (just before the I-26 overpass). Follow Hunting Country Road for approximately 3/4 mile. The entrance to the Equestrian Center, Mane Gate Lane, will be on your left just after a one lane bridge and just before the I-26 underpass.
---
Mullet Hall Equestrian Center
Johns Island, SC
http://www.ccprc.com/mhec

Driving Directions:
From I-26 East, take I-526 West towards Savannah.  At the end of 526, turn right onto Hwy 17 towards Savannah.  Continue on Hwy 17 for approx. 4.5 miles to Main Road (Hess station, Burger King).  Turn left onto Main Road towards Kiawah and Seabrook, go over Limehouse Bridge.  At third stoplight (they are miles apart, 1st is at end of bridge, 2nd is at Piggly Wiggly/McDonalds, 3rd is River Road), turn left onto River Road.  Go approx. 1 mile to Mullet Hall Road, turn right and facility is a little ways on left.
---
South Carolina Equine Park
Camden, SC
http://www.scequinepark.com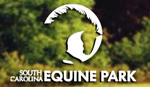 Driving Directions:
From I-20, take SC Exit #101 (Rd 329). At end of ramp turn onto Dr Humphries Rd (from East Bound I-20 merge right, from West Bound I-20, turn left). At stop sign, turn left onto Cleveland School Road (you will see a sign for the SC Equine Park). Facility is ¼ mile down Cleveland School Road on the left. First entrance takes you to the Show Office, Rings and Barns W-Z, second entrance to Covered Ring, Barns A-C, Farrier's Station.
---